Best MP3 Players for Kids: Who said only adults can be music lovers? Music is enjoyed by kids of all ages and nationalities. These cute little music lovers love to sing and groove to music but there is an issue, we can not let kids play music all the time loudly because even we have to do chores and at a point, it can also get irritating. Do not worry, we have the solution. The solution is to get your kid an MP3 Player that will help them in enjoying the company of their favorite music. If you are a parent who is very concerned about how devices are not the way of parenting then calm down a bit because even if we do not like it, it is very evident that electronic devices are part of kids' lives now. From attending school from laptops, phones, or tablets to checking their fitness levels by fitness trackers, these devices are everywhere and when used in a very systematic manner, they will not harm the kids.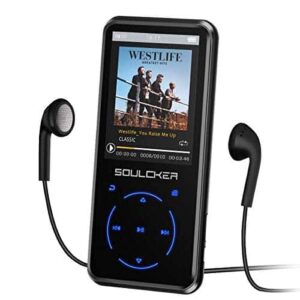 WHY TO BUT A MP3 PLAYER FOR KID
A kids' MP3 Player will have options to upload songs, plug earphones and they will be able to souffle from different songs they love to groove on. Let us get this straight, we do not love every Disney song that our kids love but of course, we have to be their DJ but no more because these little devices will let them be at peace. The plus point is, they are not using your phone thus eliminating the chances of them buying something that is not even important at all. This article will give you a list of the Best Kids MP3 Player of the year 2023.
Check here: Free Ringtones for iPhone
BEST MP3 PLAYERS FOR YOUR KIDS
Here is the list of the three best MP3 players you can buy for your kid to keep them entertained and busy.
Sony Walkman MP3 Player
Don't worry, we do not mean the bulky sony walkman from your childhood, instead, we are talking about the new sleek one that is ruling over the internet. This player will come in black or red and also have 35 hours of playback. This can also be used for playing an FM and is very kid-friendly. It also has a drag and drops feature that can be used for loading music and pictures directly from your computer or laptop.
AGPTEK K1 MP3 Player
Looking for a player that not only works but looks like a kid's one? Then you have landed on the correct place because this kids MP3 Player does come with a very cute cartoon case that will be a very great companion for your little ones. This device will play their favorite tunes, FM Radio they love, eBook if they like it, voice recordings, and not only this, it also comes with a voice recording feature, alarm clock, and games. This has a playback of 26 hours if used with earphones, otherwise, it will last up to 17 hours.
Wiwoo MP3 Player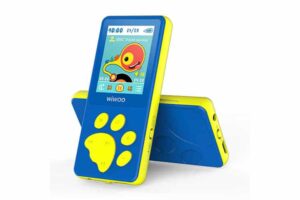 Welcome to the world of kids because this device gives justice to the purpose. This device comes in bright colors and also with a paw design that has buttons to be used, the perfect partner for music. This will play their favorite music, will record their voice, will play videos for them, they can have a screen lock on this one, and also comes with built-in puzzles and games. It comes with an LCD screen and the battery will last up to 25 hours.